The Best running shoe of 2019 is…
My first introduction the Brooks brand was back in 2014 with the Launch 2 running shoe. The neon green and blue coloring stood out among the crowd, catching my attention. From the moment I slipped the shoes on my feet, I was hooked! My first run was shortly after two toe surgeries that had finally healed. There couldn't have been a better name for the shoe, as I was launched into a new realm of running I didn't think I'd ever be in; enthusiastic joy.
I have never been a fan of running, but this shoe gave me a new passion for the sport. Every step felt better than the last. Even with sprints, I felt as though I was transferring from one cloud to another.
Being so impressed, I had immediately purchased a second pair as a backup. I did not need another shoe for quite some time, and quite honestly, I was disappointed with the newer models, which I had tried on to see if the same feeling would emerge. It didn't.
That is until the Brooks Launch 6 was released.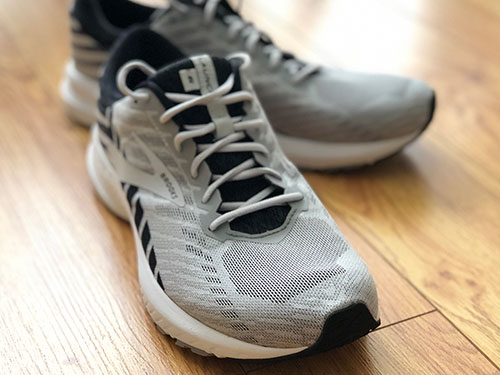 I purchased a pair of the Brooks Launch 6 recently (Pictured), and have found a running shoe that I will have for at least two seasons. The focus of the Brooks Launch 6 seems to be centered more around stability than the extra cushioned comfort of its predecessor. Despite this, I still love the feel of the shoe wrapped around my foot.
Construction
The front end of this shoe is a one-piece mesh upper that is light, breathable, and most of all, durable. There is additional padding for the big toe, which helps those of us with toenails that point upward. Aside from regular maintenance, a shoe that is conscious of its occupant, like the Launch 6, is a subtle note that is truly appreciated. Thank you, Brooks!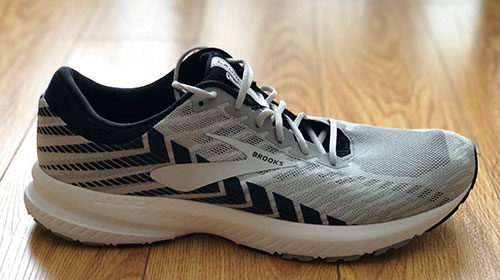 Comfort
My foot feels wrapped comfortably, secure, and light thanks to the tough yet lightweight materials used. The tongue is soft and keeps the tops of my feet from feeling trapped. Any pressure by the laces is non-existent. There is plenty of spring from the heel, and the assistance from the "Midfoot Transition Zone" makes for a smooth heel to toe movement. Whether your stride is long or short, this shoe will bring you comfort over any distance.
Conclusion:
On a final note, on the Brooks Launch 6, the opening is wide, yet also snug enough to provide comfort and security without any rubbing. I am currently training for a Marathon and an Ironman, and the longer distance runs have been a real joy in this shoe. Whether you find yourself running longer distances or spending long days at Disneyland waiting in line and walking from ride to ride, the Brooks Launch 6 will keep you comfortable all day. All of these benefits make the Brooks Launch 6 the Best Running Shoe of 2019.
Rating:
Overall, I give the Brooks Launch 6 running shoes a 4.7/5 stars. This rating comes from a combined score of comfort, construction, durability, and style.
Gets yours directly from the Brooks site here.
by Nicholas Lucin