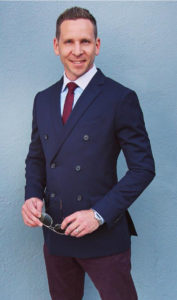 Hello, and thank you for stopping by. My name is Nicholas Lucin and I am the face behind BestGentleman.com. I developed this site to address the many issues affecting men in the modern world, as well as a resource to help men become their best self. I am dedicated to the well being of the men of today, and helping each one along in his journey to a greater tomorrow.
BestGentleman.com is a safe harbor for all men to catch up and discuss the topics that are often seen as taboo and/or downright ignored. The often unspoken words are spoken here to break open the doors of vulnerability as well as allay any surrounding fears.
Being  a man is often confused with pretending you are strong when you feel weak or masking your fears with anger. Similarly, being a gentleman is often confused with simply putting on a suit or growing a moustache. I intend to bridge those gaps through honesty and understanding.
It takes time to become the man you wish to be, and I am excited to join you on your journey of discovery.
Take charge of your life by connecting with the leading community of men of class, culture, and quality!
E-mail me at nicholas@bestgentleman.com to start today!
Onward,
Nicholas Lucin