Redefine your life Today!
Scroll down for more!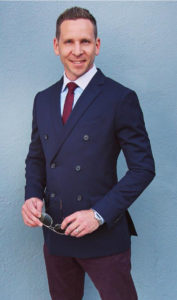 Hello, and thank you for stopping by. My name is Nicholas Lucin and I am the face behind BestGentleman.com. I am also the face behind many of the Award Winning news channels you see across the United States.
Ever wonder who makes the graphics that fly in and out of a newscast? This guy!
Graphics, Design, Animation, and Production are all elements of my background and training, but Leadership has always been the goal.
I moved to Los Angeles 12 years ago with empty pockets and a heart filled with passion. I had never even been to the city, but I knew deep within that it was where I needed to be. So, I left my old life behind and never looked back.
Throughout my career I've had the privilege of photographing, interviewing, and working alongside star talent including: movie stars, musicians, models, sports stars, and the finest professionals one could ever meet (some not so great too). My offices have stretched from 30 Rock in NYC to LA Movie Lots, and everywhere in between.
An avid traveler, I constantly journey all across this great world in search of my next adventure. From the Bamboo forests of Hawaii to the Mesoamerican Pyramids in Mexico, to the incredible beaches of Croatia, I have been fortunate to explore so much of this incredible planet.
I share my accomplishments, not to brag, rather, to share with you all that I have learned. Additionally, to say to you directly, anything is possible! This is what I wanted out of life, and that is what I received. It wasn't all sun light and rainbows, but the storms I have passed through were worth the struggle.
I was the kid who was bullied for years during my youth, and into my teens. I was told I would never play sports again due to a back injury. I was discouraged to live my life on my terms from those I trusted most. My beginnings were humble and despite any fortune, I remain that way.
My journey certainly does not end here. Rather, it begins anew with you.
I developed this site first as a blog about grooming, then as a resource to help men become their best, most authentic selves. I am dedicated to the well being of the men of today, and helping each one along in his journey to a greater tomorrow.
Here at BestGentleman.com I discuss the topics that are often seen as taboo and/or downright ignored, mostly at the expense of my own experiences. The frequently unspoken words are spoken here to tear down the walls of vulnerability, as well as allay any surrounding fears.
Being a man is often confused with pretending you are strong when you feel weak, or masking your fears with anger. Similarly, being a gentleman is often confused with simply putting on a suit or growing a moustache. I intend to bridge the gaps in those fallacies through awareness, honesty, and understanding.
As we all know, it takes time to become the man you wish to be. With a little patience and a bit of work, we can get there together. I am excited to join you on your journey of discovery and hope you enjoy reading about mine as well.
Take the next step by connecting with the leading community of men of class, culture, and quality!
E-mail me at nicholas@bestgentleman.com to begin your journey Today!
Onward,
Nicholas Lucin
In case you missed it, here are the highlights from this year's LA Auto Show.
Since 1860, TAG Heuer has been revolutionizing the watchmaking industry.
Here, we explore this age old question through definitions and insights.
nicholas@bestgentleman.com