Want the best in comfort, clarity, and quality in your music experience? Look no further than,
BOSE Quiet Comfort over ear headphones. Not only do these headphones give you clean highs and deep lows, additionally, they cut out external distractions too. Through noise cancelling technology, ambient sounds such as traffic, airplane engines, and screaming babies become subtle if not muted.

In the Bose QC series of headphones you get this technology and more! As an avid traveler, I use these headphones on every flight and in every airport, even if I am not listening to music or podcasts. The amount of noise reduction is tremendous and worth the investment.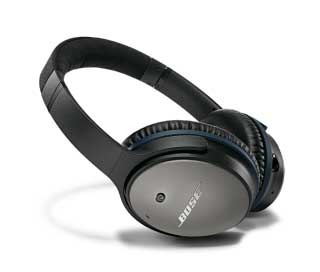 I presently have a pair of the BOSE QC25 that have served me well for over three years now. I have only needed to change out the ear cushions once in that time, which says a lot about the durability of the product. The sound is still as great as Day 01. I am an advocate of the wired connection, although if you are looking for wireless connectivity, opt for the AirMod Wireless Bluetooth Adapter.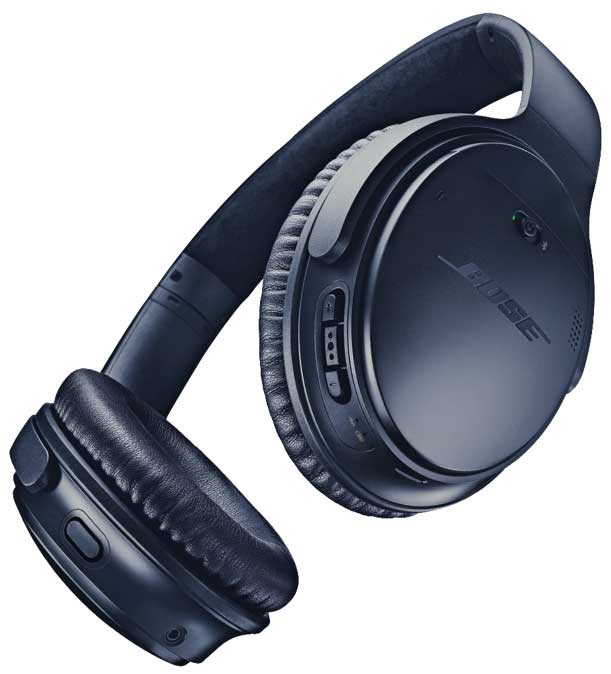 The new BOSE QC35 headphones use built-in wireless technology and can link up to Alexa and/or Google Assistant for your convenience. Other features include some of the most powerful noise cancellation on the market today. Using passive and active noise cancellation technology, you can be sure to enjoy your tunes without external distractions. Take that, loud talkers in confined spaces!
There is a nice variety of colors you can purchase your headphones in as well. With Silver, Black, Midnight Blue, and Triple Midnight color options, you have choices to match your personal style. However, if that's not to your liking, your headphones can also be customized, but for an added cost.
QC25
In terms of batteries and their respective life cycles, you can expect to use 1 AAA battery to power the QC25 Noise Cancellation feature on your headphones, which will last you about 20hrs+ (always keep a spare in the case).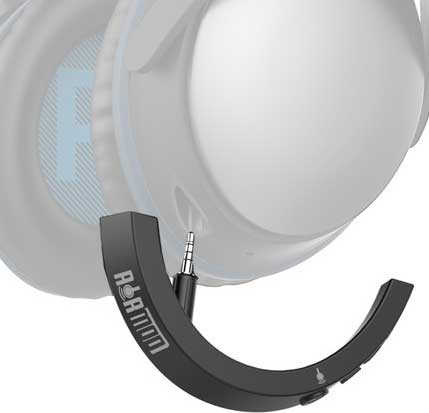 The AirMod bluetooth adapter uses a Lithium ion battery that offers up to 8hrs of power. This adapter also features a built-in microphone as well as connection to Apple & Android devices. You also have external volume control and song skipping capability. Charge the device using the included charging cable with a wall adapter or through your laptop.
QC35II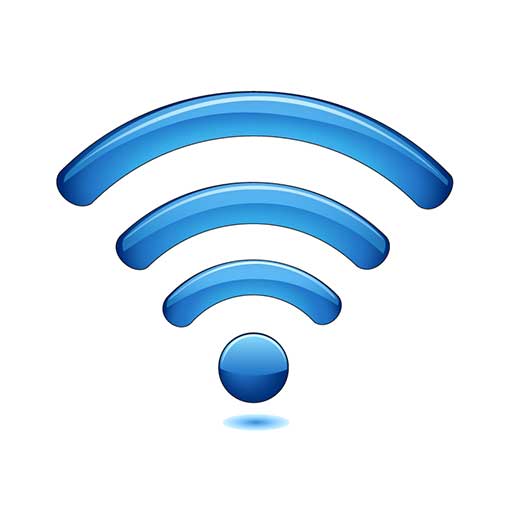 Utilizes Lithium ion battery technology inside the headphones. Full charge time is roughly 2.25hrs offering uninterrupted usage up to 20hrs using wireless, and 40hrs with a wired connection. You can recharge using the included USB cable with a wall connection or your laptop.
NOTE: Regardless of where you purchase your headphones, get the warranty because you never know. Peace of mind is priceless.
Overall, the BOSE Quiet Comfort headphones come highly recommended. Their name says it all, as they truly are Quiet and incredibly Comfortable, even after long periods of use. Ditch the earbuds and get your BOSE QC headphones today! The best prices online are in the links above. Enjoy your audio the way it was meant to be, enjoyed.
by Nicholas Lucin