With so many razors on the market, it can be tough deciding which one to go with. Having tried every razor there is, here is my #1 pick and why.
Without boring you to tears or aggravating you with a post entirely too long, here is the winner: Gillette Mach 3 Turbo.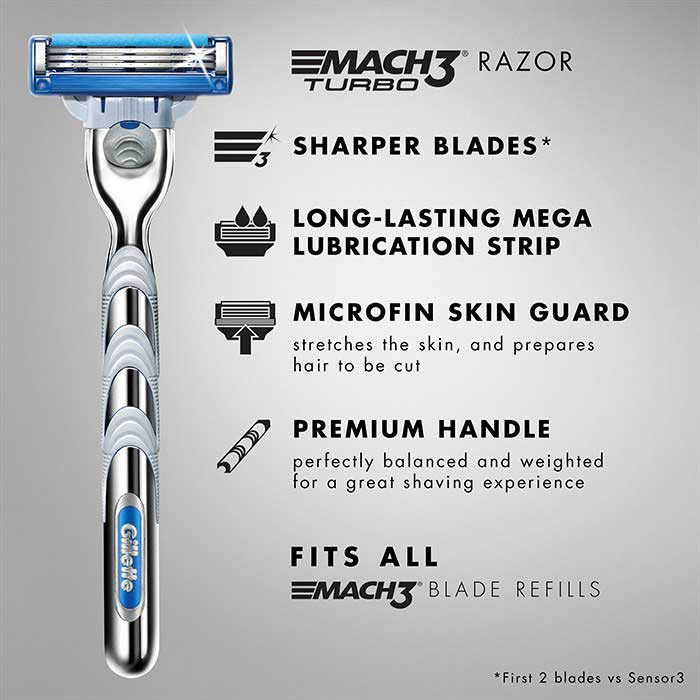 Here's why: the Gillette Mach 3 Turbo is a beautifully crafted razor with 3 perfectly spaced blades bookended bottom to top with a "Microfin Skin Guard" and "Long Lasting Mega Lubrication Strip." The handle is balanced nicely and allows for a controlled grip even when wet.
Image copyright 2018 Proctor & Gamble

Image copyright 2018 Proctor & Gamble
Beyond selling points, these are elements that actually work! Personally, I love a good barber shop shave, a classic safety razor shave when I have the time, but for everyday use, and especially when I am pressed for time, the Gillette Mach 3 Turbo has been my #1 pick since I first grew facial hair.
Right before my 18th birthday, I received a gift in the mail that I will never forget. The Gillette company sent me a Mach 3 razor with an extra cartridge. I thought is was a great shave, but without having anything to compare it to, I have been researching a rival razor ever since. The only one to outshine the Mach 3 is the Mach 3 Turbo.
Sure, 3 blades are better than 1 or 2, but wouldn't 5 blades be better than 3 or 4? Sounds like a viable argument, although it simply is not the case. With many 4 or 5 blade razors, the blades are set too close together causing hair to get clogged. Lest I not mention, the more blades you expose your skin to, the more prone you are to irritation and redness.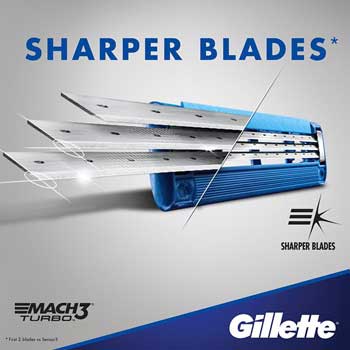 Another benefit to this razor is the effect on your wallet. Sure, the razors are little more compared to others, but not by much. Besides, the value is in how long the blades really last. Each cartridge is good for at least 5 shaves (assuming you do 2 passes each time), and can even last up to 10+ shaves. With my routine, I can use 1 blade a month. Sounds ridiculous because it is. With proper cartridge care, you can get the same longevity yourself, even with a coarse beard.
In conclusion, if you are looking for a shave that is comfortable, clean, and affordable then look no further than the Gillette Mach 3 Turbo.
by Nicholas Lucin